14.12.2021 (Tuesday)
16:00 CET (UTC+1)
A short guide to studying in Poland: formal aspects
When thinking about studying abroad, you are probably considering many aspects of higher education not only the particular program of study, the university and the country. You might be wondering if your diplomas will be recognized in Europe and if not, what must be done to have the diplomas recognized. You need to know whether you are entitled to a visa-free entry into a European country or if you must apply for a visa. And what happens next? As a student, will you be able to work in Europe to supplement your income? Will your student status be recognized outside of the university, and if yes, what advantages will it provide?
Register for our free course »
Meeting focus
Our expert, lawyer Tomasz Lewandowski, Ph.D., will explain, in simple terms, what the formal requirements for entering Europe, how to go about the recognition of diplomas that you already might have, and what the "student status" means in practice. We will focus on the following topics:
Who is entitled to study in Poland?
What are the rules and regulations concerning persons who hold diplomas issued by institutions located in the territories, which formally are not recognized by Poland, such as the Crimea or Northern Cyprus?
Legalization of stay in Poland (visa, residence card, visa-free traffic)
Access to the labor market, foreign student eligibility to work in Poland
What is a diploma nostrification process?
What does the 'student status' mean in practice, outside of the university
Our experts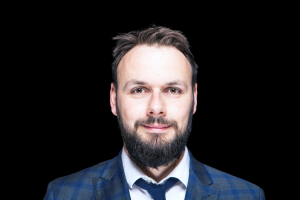 Expert
Tomasz Lewandowski, Ph.D.
Lawyer
Dr. Tomasz Lewandowski holds a position of Vice-Dean for Educational Affairs at the Faculty of Psychology and Law in Poznań. As a lawyer, specializing in the protection of personal information, international public law, and the philosophy of international law, he will provide information on the education system in Poland and in Europe, and on the process of recognizing international qualifications.
Host
Dorota Słowińska
International Admissions Officer, psychology student at SWPS University
"Working with candidates and students from around the world gives me a lot of satisfaction. I graduated from a secondary school in Dublin, Ireland, so as someone who has experienced the process of moving to a foreign country as well as learning in a foreign school, in a foreign language, I know how important the support of the institution and its employees is for the newcomers."
This project is financed by the Polish National Agency for Academic Exchange under the Welcome to Poland programme